If your GPS tracker is currently lost, follow the steps below to find or replace the device:
Tips for finding your Tractive GPS
To find your lost Tractive GPS tracker, follow the steps below:
Open the Tractive GPS mobile or web app and select the lost tracker/associated pet to view the last known position of the device.
Enable Bluetooth and GPS location on your smartphone - this will ensure you receive the most accurate location information available.
If possible, activate LIVE Tracking to get more up-to-date position reports.
Device not reporting? Use the Find feature if you suspect the tracker is nearby, but not reporting or in sight.
You can also enable the Location History and Heatmap options in the map. This will allow you to view all of the most recently reported positions of the tracker, so you know where to search, like in the screenshot below.

Green areas show spots where your pet lingered, while the yellow and red colors indicate the locations where your pet spent the most time.

On your search, enable the light or sound feature to better help you locate and retrieve the device.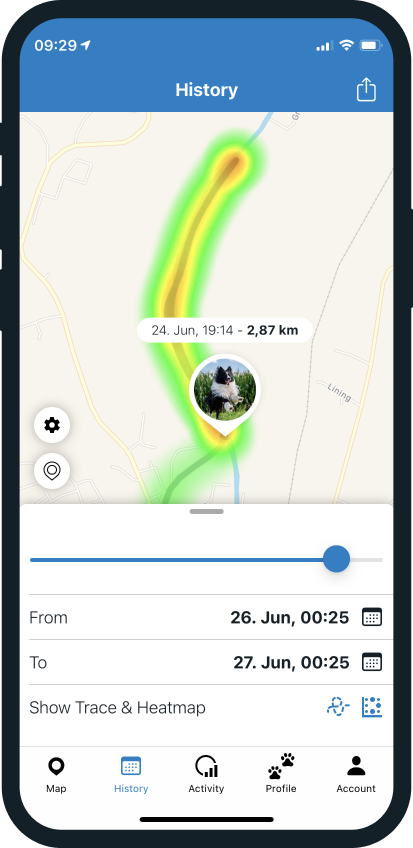 How to replace your Tractive GPS
In case you are not able to find the device, there are several options for replacing your lost Tractive GPS device.
Replacement via Tractive Care
With Tractive Care, you pay a small amount in addition to your subscription plan, and Tractive will replace the device in case of loss, theft, or damage.
You can check to see if your tracker is covered by Tractive Care by visiting https://my.tractive.com/#/settings/trackers.
Use the button below to claim Tractive Care now:
Not Covered by Tractive Care?
In this case you can:
Once you receive the new device, you'll be able to easily activate it under your existing subscription plan. How to activate a replacement tracker >