With the Tractive GPS LIVE Tracking function, you can view the current position of your pet and follow their path in real time from your smartphone. Follow the steps below to activate LIVE Tracking:
Sign in to your account and make sure that the desired pet is selected. You can swap between pets by pressing the arrow at the top of the screen.
While on the map, activate LIVE Tracking with a tap on the LIVE button at the bottom of the screen. Can't tap on LIVE? Check our troubleshooting tips here.)
As soon as LIVE Tracking is activated, you'll see your pet's position in real time illustrated by a blue line on the map.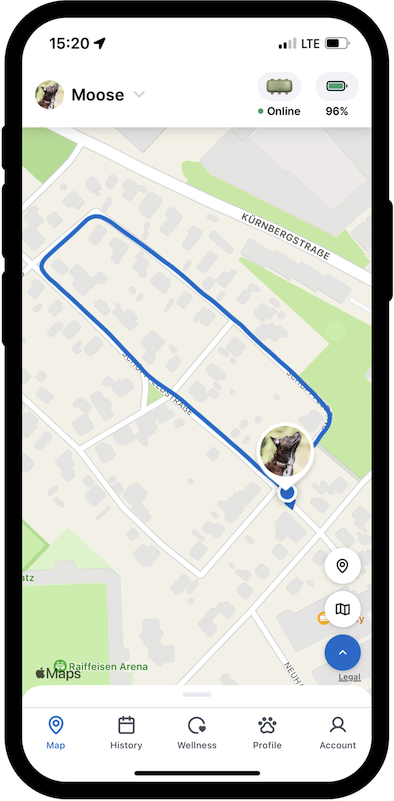 If you have our latest Dog or Cat tracker model and have set up a Power Saving Zone, it is only possible to activate LIVE tracking if the tracker is within Bluetooth range of the mobile device you are using.
How can I turn off LIVE Tracking?
Turn off LIVE Tracking by simply clicking on the Stop button and confirming that you would like to end the session. LIVE Tracking may also be stopped in the case of the loss of the mobile network or GPS signal.