Frequently Asked Questions
The Tractive GPS tracker contains an integrated SIM card, so it is not necessary to purchase one for your device. Simply activate your Tractive GPS tracker in the mobile or web app, and start tracking in over 150 countries worldwide with a Tractive GPS PREMIUM subscription plan.
Yes, in order for the Tractive GPS tracker to work, you'll need to have cellular service coverage in your area. In general, the Tractive GPS works where ever your cell phone works.
In short - no, it doesn't matter which service provider you have for your smartphone. Each Tractive GPS tracker is equipped with its own SIM card; meaning that the device operates on a cellular network independent from that of your mobile service provider.
However, please keep in mind that you do need internet access on your smartphone to use the Tractive GPS mobile app or web app. It works over both WIFI or mobile data.
Read on to learn more about how the Tractive GPS tracker works.
The Tractive GPS tracker continuously sends and receives GPS position data via local cellular networks, allowing you to track your pet in real time in over 150 countries worldwide. In order to make this possible, each tracker is equipped with a SIM card which generates cellular service fees similar to those of your mobile phone. Tractive only charges a small subscription fee to cover these costs. You can read more about the Tractive GPS subscription plans here.
The Tractive GPS tracker works over any range and has no distance limitation, unlike other types of tracking devices.
The Tractive GPS tracker calculates its GPS position using GPS satellites and sends this data to the Tractive GPS app using an integrated SIM card - updating your pet's location in real time in the app through an active mobile network connection.
Note: an internet connection on your smartphone, tablet or computer and an active network connection on the tracker are required.
Like sending a text message to a friend, this works over any distance, so technically you could track your pet from opposites sides of the world.
Yes! Tractive GPS devices do not have sim-card openings or USB ports and are therefore not only protected against splashing water, but are also fully waterproof (up to 1 meter depth, 30 minutes) according to IPX7-standard. As a result, Tractive GPS devices are perfectly suitable for water-loving pets and can, of course, be used in the rain.
Yes! The Tractive GPS can be used for cats, dogs, and other animals. All Tractive GPS devices are built by pet lovers for pet lovers; to help you ensure the safety and well-being of your canine and feline friends.
Not only can you ensure that your cat will be located with the help of a Tractive GPS, you can also have fun viewing where your cat has been when he/she is out and about exploring the local neighborhood or countryside.
Which Tractive GPS tracker does Tractive recommend for cats?
Tractive GPS Cat Tracker (IKATI)
The Tractive GPS Cat Tracker (IKATI) is the newest device from Tractive, which has been especially designed for cats. At only 30 grams (1.1 oz), the Tractive GPS Cat Tracker (IKATI) is our lightest tracker ever, so it can be worn comfortably on cats of all sizes; however, it is recommended for those above 4 kg (8.8 lbs). For smaller pets, the device can be attached to a harness on the back for greater comfort. Easily attach the tracker with dimensions of 72 x 29 x 16 mm (2.8 x 1.1 x 0.6 in) to your favorite collar or harness and your kitty is ready to go exploring.
Bonus feature: the Tractive GPS Cat Tracker (IKATI) offers an Activity Monitoring feature that has been specifically adapted to the unique lifestyle of cats.
Tractive GPS Classic / Tractive GPS 3G
At 35 grams (1.23 oz) and with dimensions of only 51 x 41 x 15 mm (2.0 x 1.6 x 0.6 in), the Tractive GPS Classic and Tractive GPS 3G are recommended for pets weighing 4.5 kg (9.9 lbs) or above and can be attached via all standard collars or harnesses.
What do our existing customers say about the Tractive GPS for cats?
Check out these real Amazon reviews from Tractive customers and proud cat parents:
"I have this on my large (22lbs) cat and it works excellent! I can always see where he is. I get notified when the battery is low and when he goes out of the area I have set on the app. I have had absolutely no problems with it! This is a well built product! Also it has never came off the collar clip used to secure it. Well done!!"
-
"We bought the Tractive to use for our indoor cat. She was meowing FOR MONTHS....wanting to be let outside. Buying the Tractive has given us our sanity back. She wears a small harness and it is attached to her harness. I know where her favorite spot is and can find her within seconds."
-
"I am using this product on a 3.5kg cat. It is an excellent product for any dog/cat owner for complete peace of mind. The product does exactly what it says and more..."
So what are you waiting for? Invest in the Tractive tracker for cats and dogs today or continue reading all about the Tractive GPS.
The size of the Tractive GPS tracker varies by model. Most Tractive GPS trackers are similar in size to a box of matches and weigh less than 35 grams.
Continue reading below to find the size, weight, and recommended pet size for each available Tractive GPS tracker.
Note: Tracker availability varies by country. Please visit www.tractive.com to see which Tractive GPS trackers are available for your country.
The Tractive GPS Cat Tracker (IKATI) has dimensions of 72 x 29 x 16 mm and weighs 30g. It is suitable for cats 4kg and above.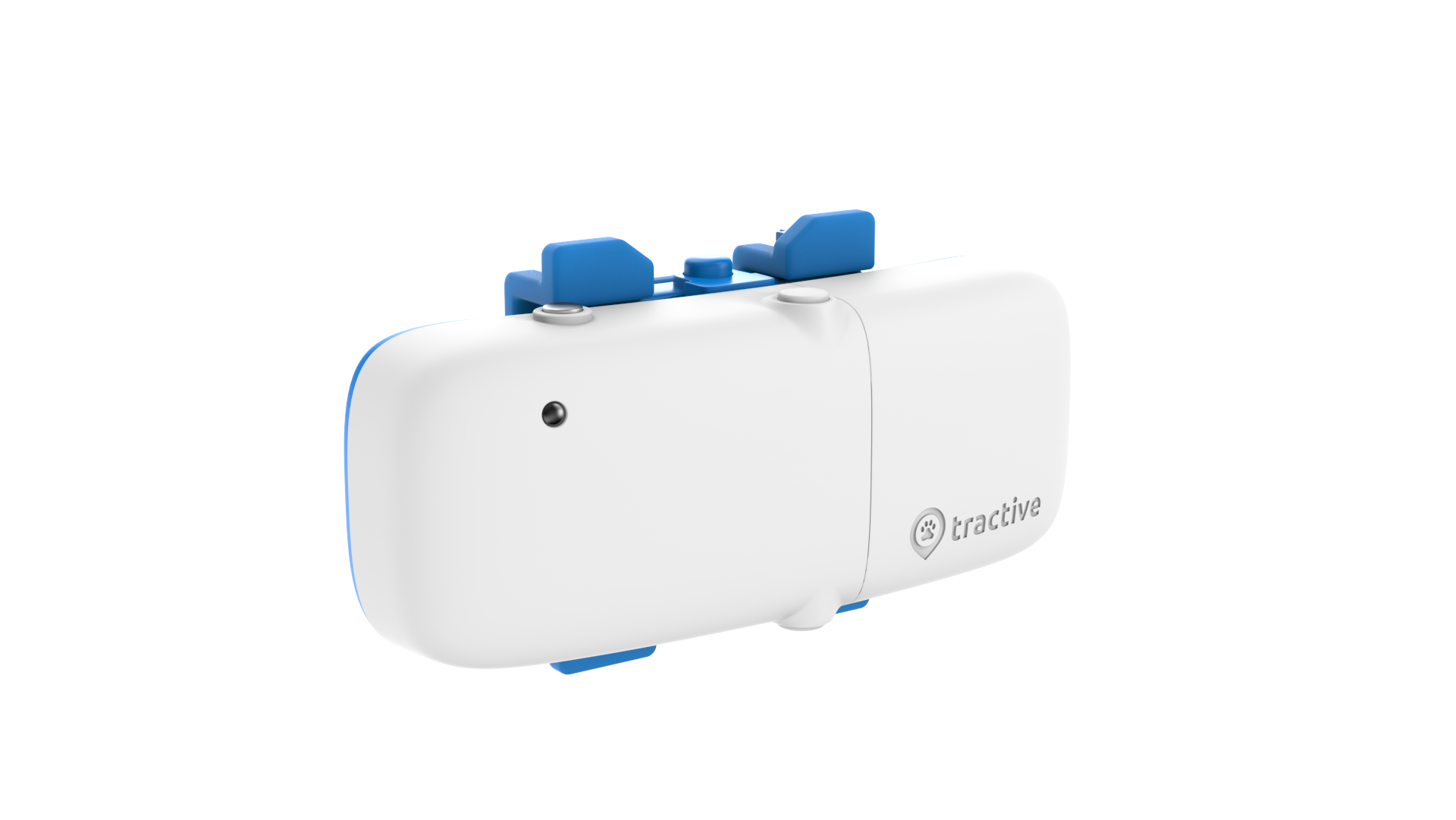 The new Tractive GPS DOG has dimensions of 72 x 29 x 16 mm and weighs 30g. It is suitable for dogs 4kg and above.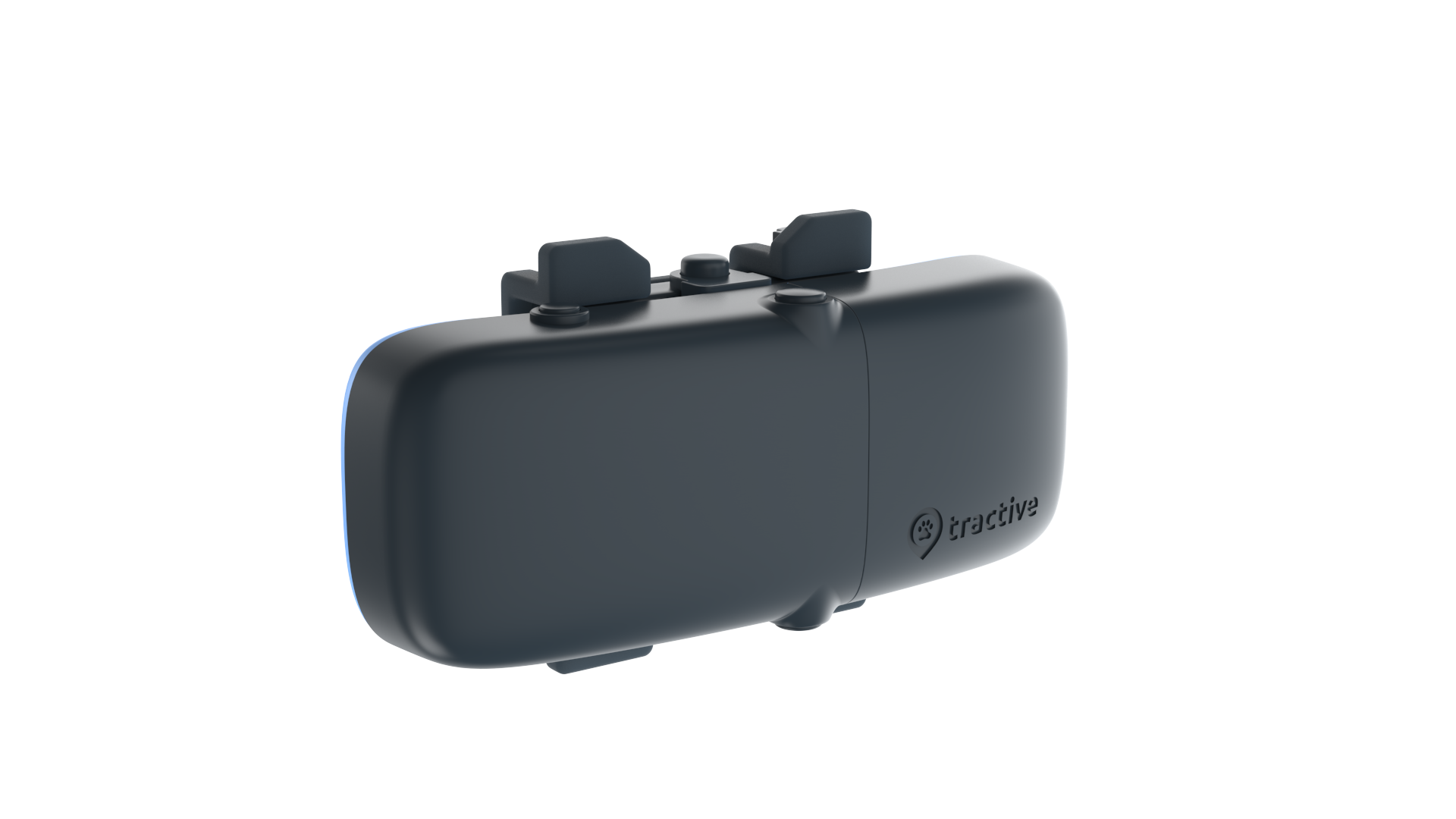 The Tractive GPS CAT tracker (with integrated collar) weighs 50g (1.76 oz), fits necks with a circumference ranging from 19 to 30 cm (7.5 to 11.8 in), and is recommended for all cats and small dogs weighing 3.5 kg (7.7 pounds) and above.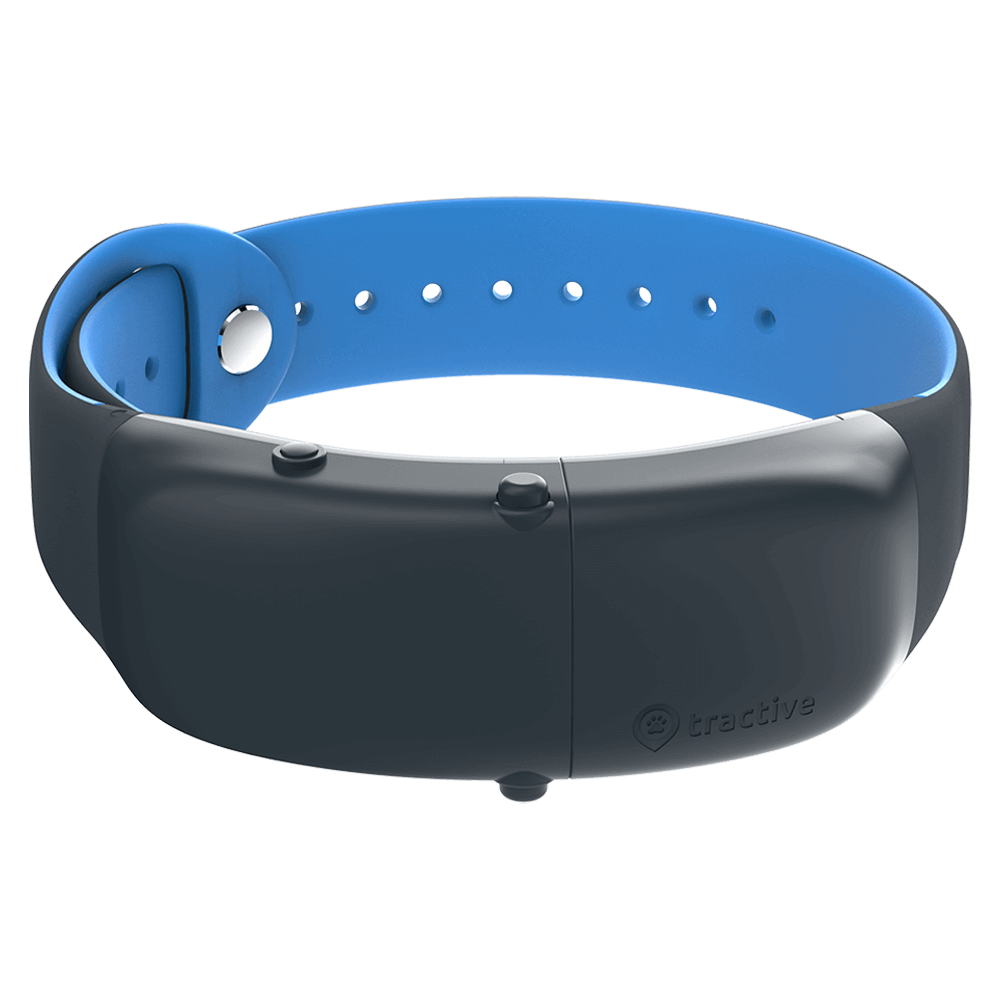 The Tractive GPS Classic XL is the largest Tractive GPS tracking device and therefore offers the longest battery lifetime. With dimensions of 80 x 49 x 29mm (3.1 x 1.9 x 1.1in) and a weight of 142g (5 oz), the tracker is recommended for all pets weighing 20kg (44 pounds) and above. The battery lasts up to 6 weeks on a single charge.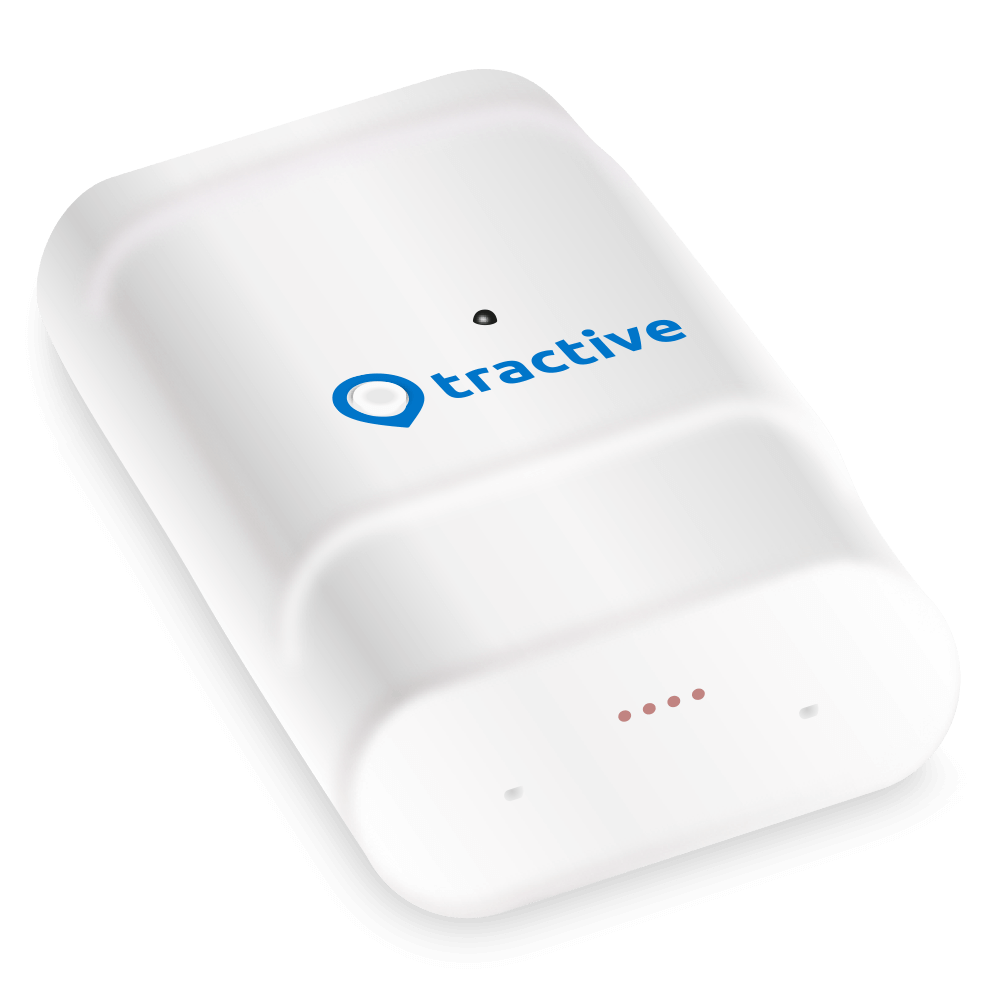 Tractive GPS Classic & Tractive GPS 3G
The Tractive GPS Classic (pictured below) has dimensions of 51 x 41 x 15mm (2.0 x 1.6 x 0.6in) and weighs 35g (1.23 oz); it is therefore recommended for pets weighing 4.5kg (9.9 pounds) and above. These dimensions also apply to the special Hunters Edition and Tractive GPS 3G tracker.
More information about the different Tractive GPS devices can be found here.
A microchip can be used to identify a pet's owner when a dog or cat is found and brought to a veterinarian. A GPS tracker tracks the location of your pet in real-time, enabling you to always know where your pet is and to find them immediately in the case that they run off, preventing them from getting lost in the first place.
Most microchips are the size of a grain of rice, allowing them to be implanted under the skin. A GPS tracker is a bit larger at 30 grams, as it contains a battery pack, GPS antenna, GSM module, etc. which are necessary for tracking your pet. It can be easily attached to your pet's collar.
Read more about the differences between microchips and GPS trackers in the Tractive blog.
Contact Tractive
Can't find the answer to your question in our Help Center? Please use the contact button below.
Our Customer Service team is always ready and available to assist you.
CONTACT US