Reminder: To turn on your Tractive GPS tracker, simply hold down the main power button for 3 seconds. The LED light will flash green to indicate that the tracker has been turned on.
To get to the root of the issue, let's first check the current status of the tracker.
What happens when you press the power button once briefly (for less than 3 seconds)?
If the lights blink and you hear a short beep, the tracker is turned on.  If this is the case but you are informed in the app that the tracker is turned off, or that the tracker cannot update its location, follow the troubleshooting tips here.
If there is neither a beep nor a light, the tracker is turned off.
If you see a blinking red light, the battery level is too low and the tracker must be charged.
Step 1: Charge your tracker:
Attach the device to the charging cable. A red light will show when the tracker is charging
Check that the charging cable is securely connected to the tracker. You should hear a click when you connect the tracker to the magnetic cable.
If you haven't used your tracker in a while, it may take up to one minute for the LED to light up red.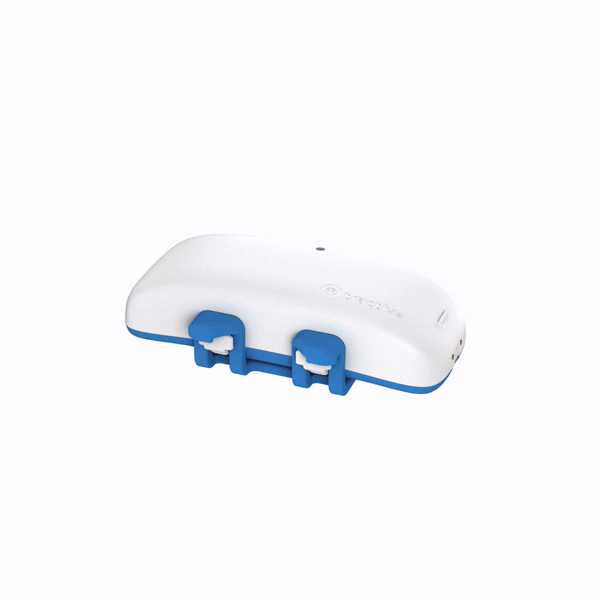 Does the red LED appear when the tracker is charging?
✅ Go to step 2
❌ It is likely a charging issue. Click here for further charging troubleshooting tips.
Step 2: Check the status of your tracker:
Allow the tracker to charge until the red light turns green. This indicates that the tracker is fully charged.
Press the power button once briefly.
Does the LED blink twice?
✅ Your tracker has been successfully turned on. Go to Step 3
❌ It could be an issue with the power button. If the power button is not responding properly when you press it, or if the LED behavior is strange (e.g. a steady blue light), then the power button may be stuck. Please contact us for assistance via Contact Tractive at the bottom of this article.
Step 3: Check the status of your Tractive GPS app:
Open the Tractive GPS app and tap the tracker icon in the top right corner.
Do you see any of the following messages in the app: Online, Connecting, Low Accuracy or Power Saving?
✅  Your Tractive GPS is turned on and ready for tracking. Test your tracker by taking a short walk around the block with the tracker in your hand and LIVE tracking active.
❌ This is likely a network connection issue. Please check the connection status of your tracker and follow the troubleshooting tips in this article to resolve this issue.
Still facing issues with your tracker? Please contact Tractive Customer Service for support and we'll be happy to help.