Power Saving Zones are available on our latest dog and cat trackers.
With this feature, you can significantly boost the battery life of your tracker by connecting to a trusted WiFi network, such as your home or work WiFi. You can create up to 5 Power Saving Zones per tracker.
You can set up a Power Saving Zone directly in the app under Profile > Tracker > Power Saving Zones. Once set up, your tracker will automatically go into Power Saving Mode when it detects it is near that WiFi source. There will be a small WiFi icon near your pet's position on the map to show the tracker is currently using WiFi to save battery life: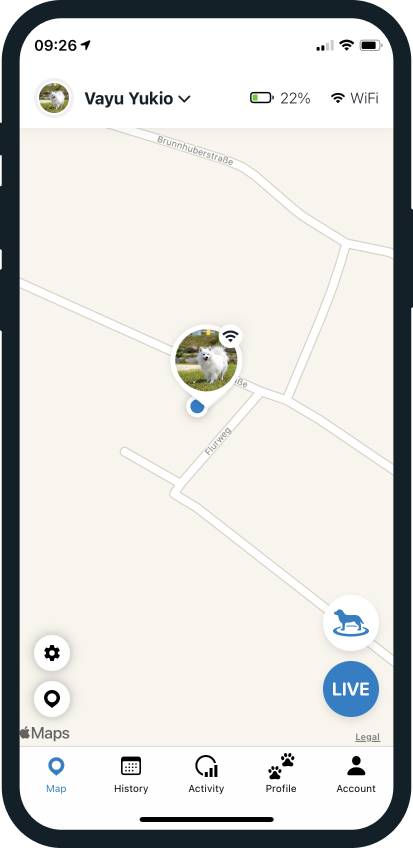 Note: You will not receive notifications when your pet leaves the Power Saving Zone. If you wish to be notified when your pet leaves or enters a certain area, please make sure to create a Safe Zone or a No Go Zone in the app.
Which features are available in Power Saving Mode?
Although you won't receive GPS position updates while your pet is in the Power Saving Zone, the tracker will continue to detect Wellness data (active minutes, rest time, sleep). As long as your tracker is within Bluetooth range of your phone, you can sync this data.
You can also use Find Mode and the Light and Sound feature to help you locate your pet while in Power Saving Mode. You can activate LIVE tracking using this Bluetooth connection, but this will end Power Saving Mode.
Once your tracker no longer detects your WiFi source, it will begin reporting GPS positions again as normal.

I'm worried about connecting to a WiFi network - will my data be safe?
The Tractive GPS tracker only detects the local WiFi network - it does not send any data over the network. It simply notices the parameters of the WiFi network as an additional way to determine your pet's location and as a way of knowing it is in a safe area where it can save battery life. No personal data is shared over the WiFi network.
You can read more about this feature in these articles: