The yellow zone on the map represents your cat's Territory.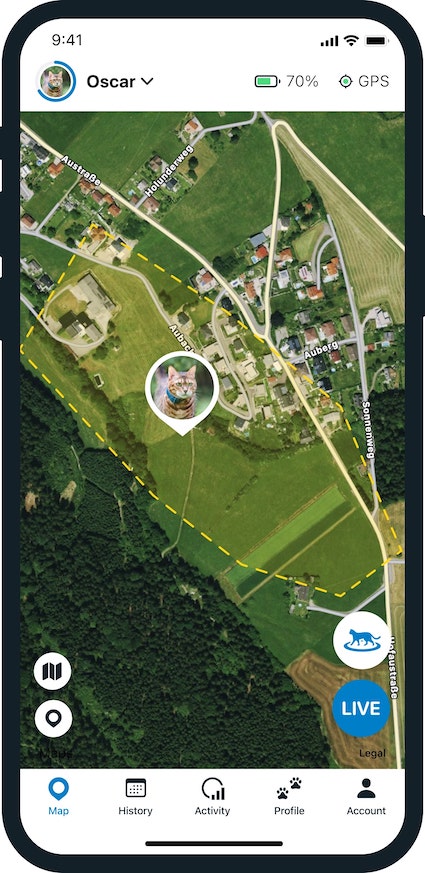 Were you ever curious about where your cat's adventures take them on a daily basis? Cats have surprisingly good long-term spatial memory and often return to the same places, time and time again. You'd be surprised to see how far they actually wander from home!
The Territory feature allows you to quickly identify the perimeter of your cat's home range. Using the position data from your Tractive GPS, we'll pinpoint your feline friend's territory based on repetitive movements around the same area.
Your cat's roaming habits may of course change over time, therefore every Monday, we'll refresh their territory to make sure it's up to date. If they haven't been wearing their tracker much in the last 7 days, or if they've been indoors a lot, the territory from the previous week will be displayed.
Please note: If you wish to be notified when your pet leaves or enters a certain area, please make sure to create a Safe Zone or a No Go Zone in the app. This feature is only meant to give you an idea of your cat's roaming behavior, but you will not be notified if your pet leaves or enters its territory.
How to activate/deactivate the Territory feature
The Territory feature is enabled automatically. However, if you wish to hide it from your map screen, you can do so anytime by following these steps:
On the Map screen, open the Map Settings button by clicking the map icon in the bottom left-hand corner.
Next to Territory, use the toggle to either disable or enable the feature.
Note: This setting will only become available once your Tractive GPS has recorded a sufficient amount of data to determine your pet's Territory.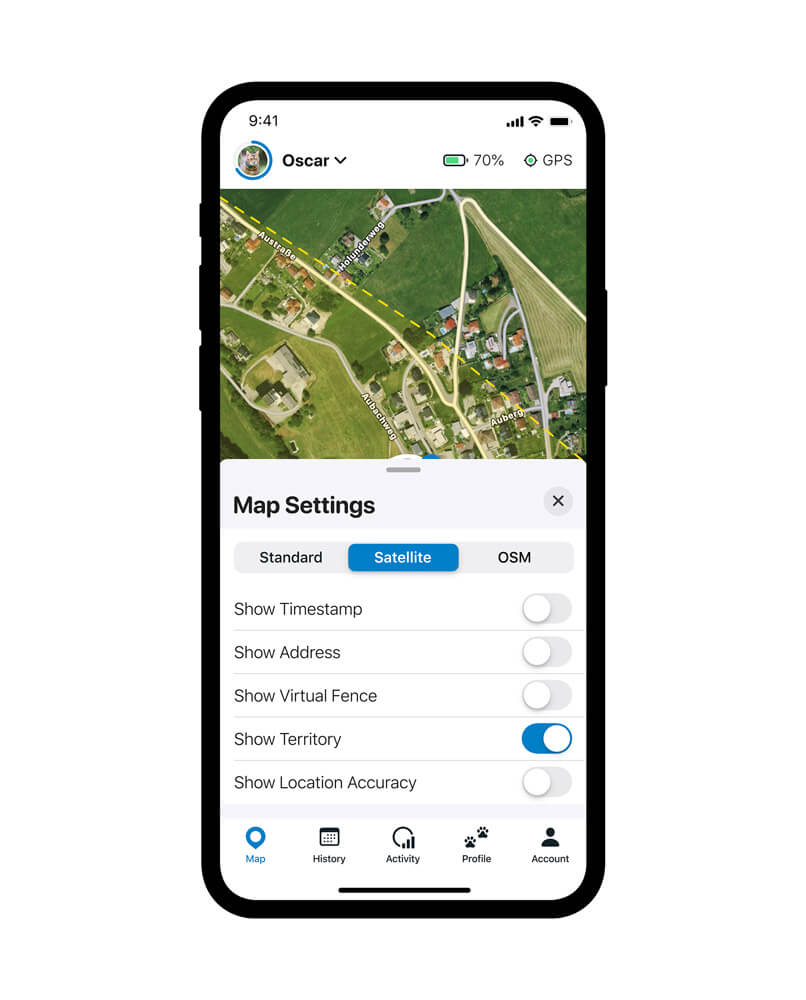 Why am I not seeing my cat's territory in the app?
The Territory feature is toggled on but you're still not seeing your cat's territory pinpointed on the map?
As this feature is relevant for cat parents, double-check that your Pet Profile is set up correctly and that your pet type is "Cat" in your Account Settings.
Note: In order for us to accurately calculate your cat's territory, you'll need to have been using your tracker for about a week or two. If you've made sure that Territory is toggled on but you don't see your cat's territory on the map yet, simply keep using your tracker as normal - the zone will soon show up automatically.