The Tractive GPS mobile app shows you lots of useful information to make sure you always know where your furry friend is. You can choose whether or not you'd like to see certain information by tapping on the Map symbol in the bottom left-hand corner of the screen when on the map page: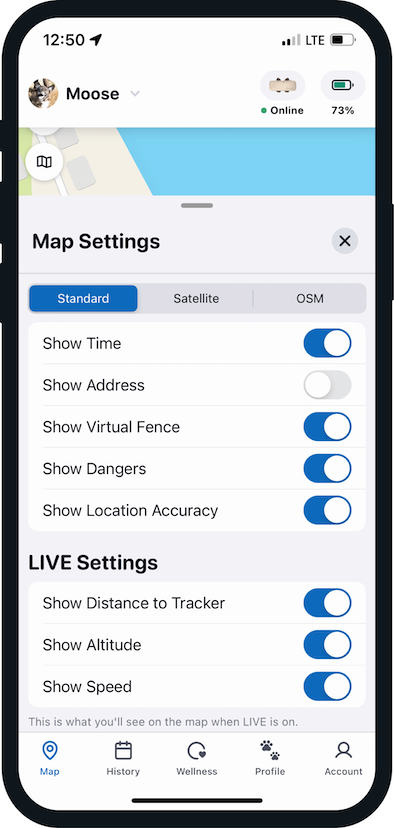 Show time: This shows you how long ago the tracker last reported a new position in default tracking mode. If you are in a Power Saving Zone, you won't see this information until your tracker leaves the Power Saving Zone.
Show address: This shows you the address of the last position reported by the tracker. This address is automatically generated based on information provided by Google Maps (Android) or Apple Maps (iOS), as well as the estimated GPS position of your tracker.
Show Virtual Fence: If you have a virtual fence set up, you can choose whether or not you'd like to see this in the app.
Show Location Accuracy: The accuracy of the last position reported by the tracker is indicated by the size of the circle surrounding that position. The smaller the circle, the more accurate the position.
Furthermore, there are three widgets that are only available when using LIVE tracking:
Show Distance to Tracker: Symbolised by a small arrow, this points you in the direction of your tracker and shows you how far away they are.
Show Altitude: This icon, made up of two small hills, shows the current altitude of the tracker.
Show Speed: This is a clock showing you how quickly your tracker is currently moving.