Note: This feature is only available on mobile devices (app version 4.0.0 or later) and with select Activity Monitoring-compatible GPS trackers.
With the Activity Monitoring Leaderboard feature, you can view your dog or cat's activity data in comparison to that of other pets in the Tractive GPS app. The Leaderboard showcases the pets which have achieved most active minutes in the current month, and where your dog or cat fits in among them.
In this way, you can have fun staying active with your pet in a friendly competition with other pet parents in your community.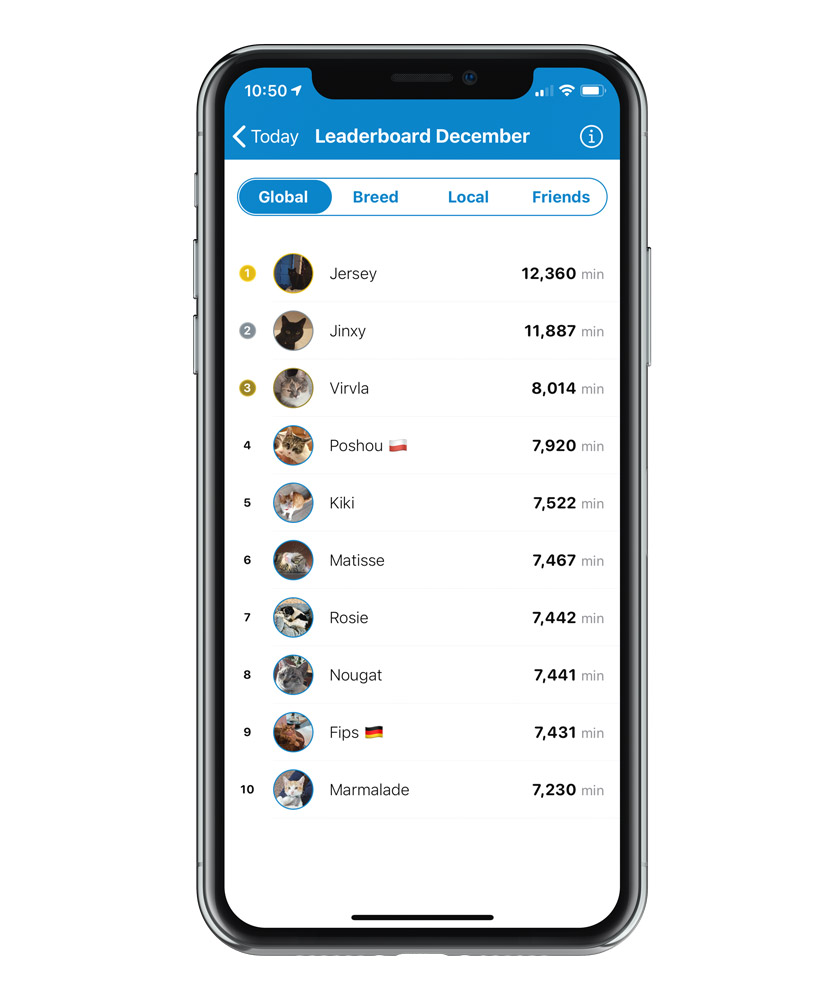 The Four Leaderboards
There are four types of Leaderboards available in the Tractive GPS app; read about the difference between each below.
Global Leaderboard: Compare your pet's activity level with that of all other pets around the world.
Breed Leaderboard: Specify your pet's breed to see how your dog or cat stacks up to other pets of the same breed. For mixed breeds, the first breed selected in the Pet Details will be used.
Local Leaderboard: View the most active pets from those in your local area. This Leaderboard shows the data of maximum 50 pets closest to your furry friend (within a 100 km radius).
Friends Leaderboard: Add friends to view the most active pets among your group of pals. Use the prompts in the app on the Friends Leaderboard page to add friends to this Leaderboard in one of three ways:
Invite via link
Continue with Facebook
Tap on a pet in the Leaderboard and press 'Send friend request'.
You can remove a friend from the Leaderboard in the Profile > Leaderboard > Friends section of the mobile app.
How does the Leaderboard work?
Leaderboards display rankings of pets based on their total active minutes for the current month. Therefore, the data on the Leaderboards is set back to zero at the end of each month.
Which information about my pet is displayed on the Leaderboard?
Your pet's name, breed, active minutes, gender, and pet birthday are displayed on the Leaderboard and are therefore visible to other users of the Tractive GPS app. Your private account information is never shared with other users.
On the Friends Leaderboard, the following additional information is shown to your friends: your name, pet height, pet weight.
Which pets show up on the Leaderboard?
Only pets which have an Activity Monitoring-compatible GPS tracker, who are using the Tractive GPS app and who have not been opted out of the Leaderboard will be visible on the Global, Breed, Local, and Friends Leaderboard. You can opt out of the Leaderboard anytime.
Can I opt out of the Activity Monitoring Leaderboard?
Yes, you can remove your pet's details from the Leaderboard at anytime. Simply tap on the Leaderboard, and again on the circular i icon to find more information about the Leaderboard types. Tap on I don't want to join the Leaderboard and click Exit to confirm.
If you opt out of one Leaderboard, by default, you opt out of all of them. It is not possible to opt out of only one Leaderboard at this time. If you wish to opt in to the Leaderboard again, simply tap on Profile > Leaderboard > Join Leaderboard