To view your furry friend's Activity Monitoring data in the app, the first step is to set up their Pet Profile - make sure that all of their details (breed, age, height, weight etc) are correct so that we can provide you with the most accurate data.
Once done, you can then select your Activity Monitoring goal by tapping on the Activity button at the bottom of the screen.
You'll now see a range of figures to help you better understand your pet's activity levels and sleep patterns. The figures for the current day are displayed on the left side of the screen, followed by the daily average on the right.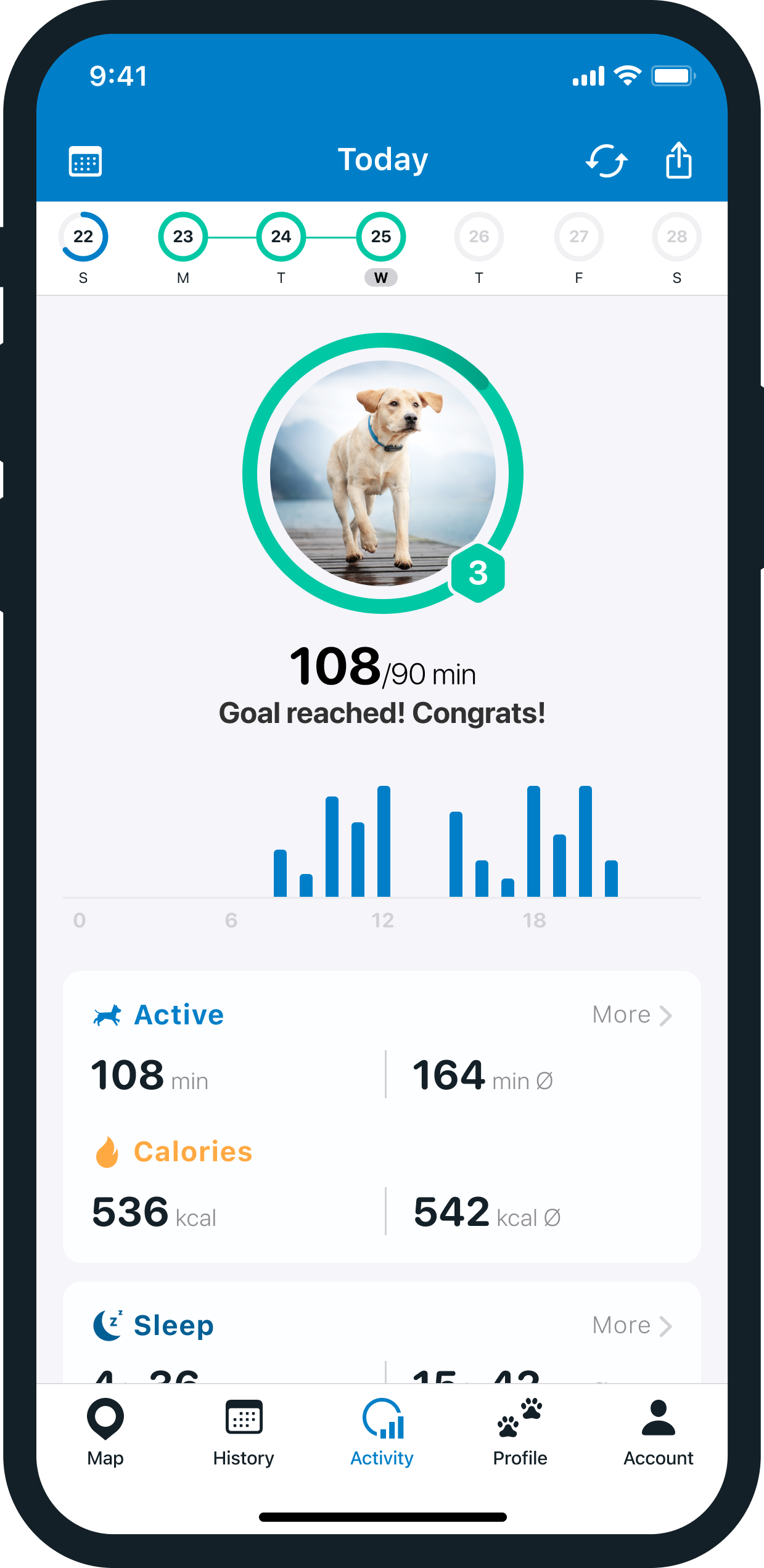 Active & Calories
Active Minutes are the time your pet spends doing activities such as walking, running or playing. Short or light movements, such as when your pet stretches or turns around while sleeping, are not counted as active minutes because such movements do not constitute exercise for your pet. The bar chart just above this tab shows the times of day your pet was active.
The Calories metric offers you an estimate of how many calories your pet has burned in any given time period. This takes into account the information you enter in Pet Profile section of the app, such as your pet's weight and whether they are neutered or not.
By tapping on the More button next to Active, you'll be able to see your pet's Activity Summary, (once your tracker has collected at least seven days' worth of data), which lets you see how your furry friend's activity levels compare to pets of the same breed, weight and size. Click here to read more about this feature.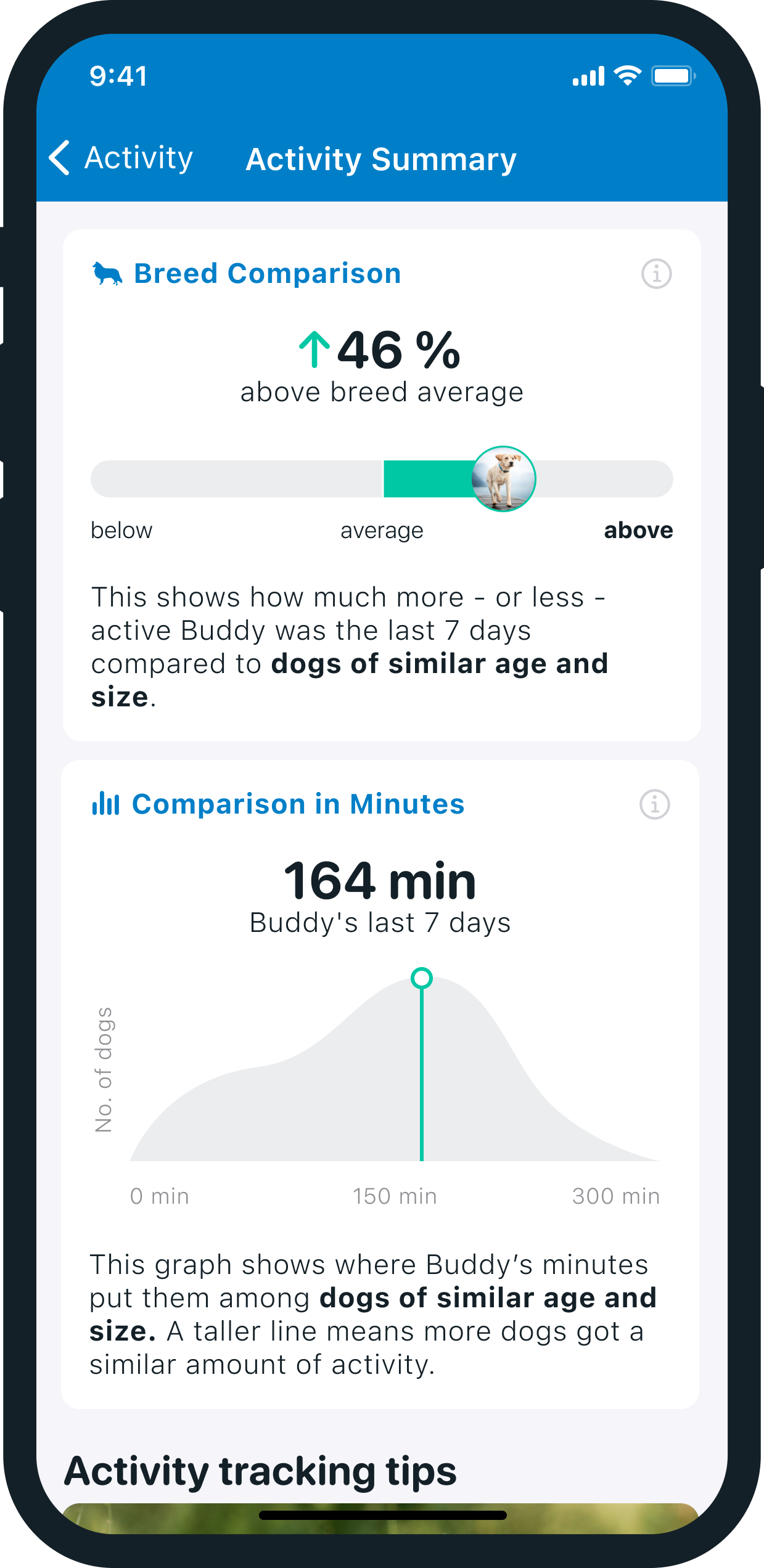 Sleep & Calm
Rest time is divided up into Sleep and Calm. Calm shows you the number of minutes your pet spends resting (not sleeping) to make sure that they get enough time to relax and unwind. If your pet rests for more than 20 minutes, this will be counted as Sleep, helping you monitor your pet's sleeping behavior.
By tapping on the More button next to Sleep, you'll get interesting insights into your pet's sleeping patterns (once your tracker has collected at least seven days' worth of data). Here, you can see information about the length and quality of your pet's sleep, such as how many interruptions the tracker detected during the night. This information is tailored for cats and dogs.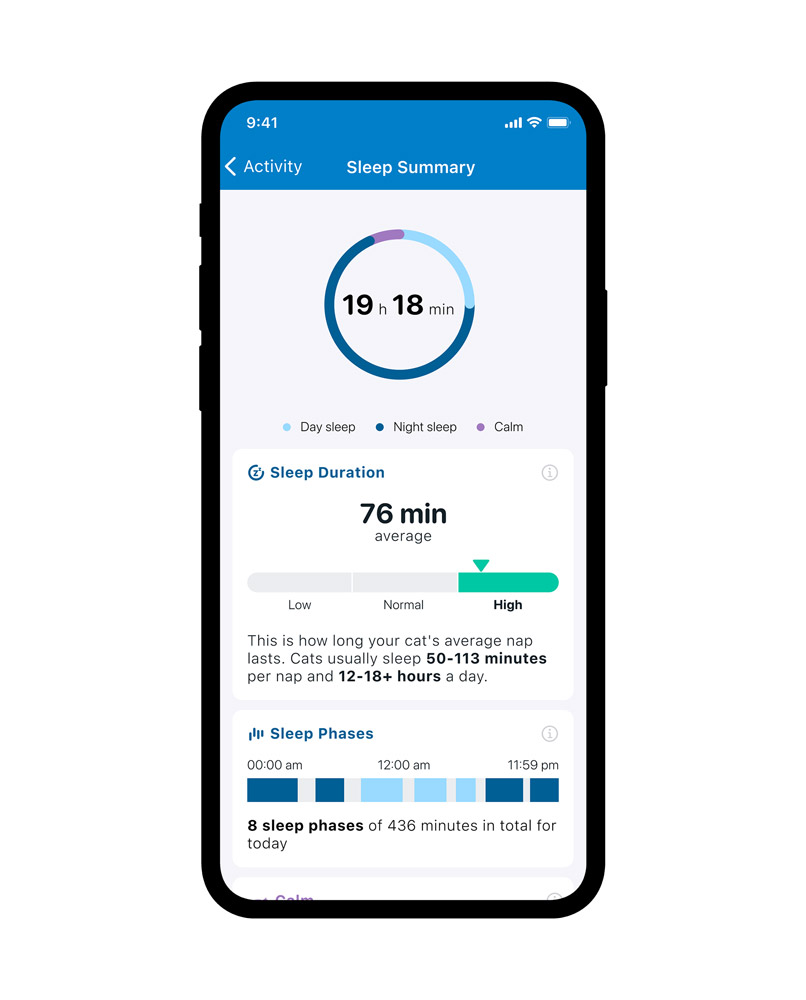 Note: Sleep tracking is only available on our latest tracker models, the Tractive GPS DOG 4 / DOG LTE and the Tractive GPS CAT 4 / CAT LTE.