Every pet owner wants to keep their four-legged friend safe and cared for at all times. The Tractive GPS tracker's LIVE Tracking feature helps you do exactly that by showing you the location of your pet in real-time, offering you complete peace of mind.
LIVE Tracking gives you the ability to know where your four-legged friend is anywhere, anytime.
Simply attach the Tractive GPS tracker to your pet's collar or harness, activate LIVE tracking and voilà! - you can see your pet's movement displayed on the map in real-time.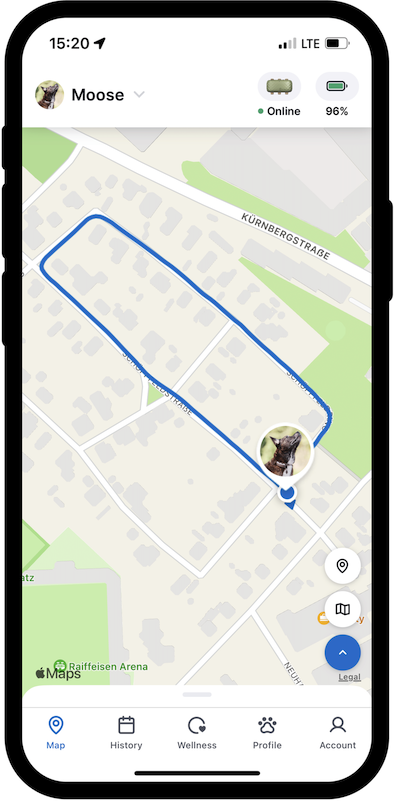 Important notes about LIVE Tracking:
In LIVE Tracking mode, the location of your pet is reported every 2-3 seconds.
With the help of the location history feature, you can check out where your wandering cat or dog has been roaming.
When your pet is missing, you're more likely to retrieve them quickly and safely if your dog or cat is equipped with a GPS tracking device that has a LIVE Tracking option.
Unlike microchips, which are only useful once your dog or cat has been found, the Tractive GPS tracker allows you to actively search for your missing pet just seconds after they go missing.
In combination with LIVE Tracking, you can use features like the buzzer and LED light, compass and augmented reality to help you locate and safely retrieve your pet.
Do you already own a Tractive GPS tracker? Learn how to activate LIVE Tracking now.