With the Tractive GPS tracker, you can easily track all of your furry friends from the convenience of your smartphone using the Tractive GPS app or in your web browser at my.tractive.com. On the simple and intuitive map home screen, you'll be able to see the location of each of your pets in real time.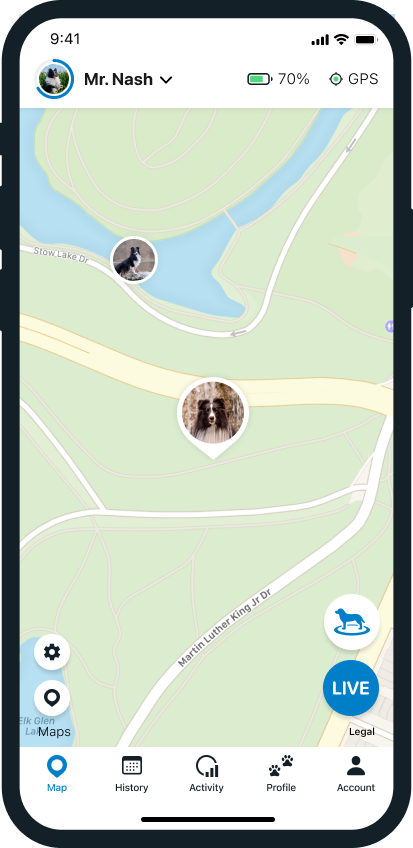 For each of your pets, you need a separate tracker and separate subscription plan in order to view their locations simultaneously in the Tractive GPS App.
Track My Pet with Tractive GPS
How can I add and track multiple pets/trackers in my account?
To add and track multiple pets in your account, simply sign in to your account in the mobile app or in your web browser at my.tractive.com and then follow these steps:
If using the mobile app, go to Account --> Trackers --> Activate Tracker and follow the steps to activate your subscription plan for that tracker. If logging into your account at my.tractive.com, just click Activate a Tracker in the bottom left-hand corner of the screen and then follow the steps.
Once you've activated a subscription plan, you will receive a confirmation that the tracker has been successfully activated.
Repeat this process for any additional trackers, being sure to stay logged into the same account (your account is identified by your email address).
Voilà! You can now track each of your pets from within the Tractive GPS app - simultaneously!
How can I change between pets?
While in the mobile app, you can easily switch between pets by tapping on the drop-down arrow at the top of the map screen, next to the name of the pet that is currently selected. Tap the pet that you would like to track or view the information of.
Additional Hints & Tips