Augmented Reality (AR) is a new technology that allows a live view of a real-world environment to be superimposed onto the user's view of their device. In the case of the Tractive GPS tracker, it offers you a whole new way to find your pet.
Note: The Augmented Reality feature is only available in the Tractive GPS mobile app when using LIVE tracking.
How to enable Augmented Reality:
When using LIVE tracking, select AR at the bottom of the screen. You can drag the bottom sheet showing the Light, Sound, AR and Find features up and down to hide and show these options. Note: Find mode will only be available if your tracker is within Bluetooth range of your mobile device.
Once you've finished using the Augmented Reality feature, simply tap Return to Map.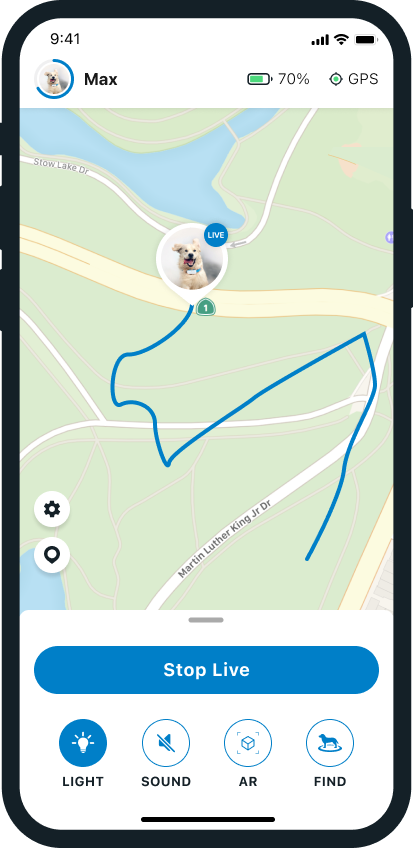 How to use the Augmented Reality feature:
Once active, you will see the location of your pet through the eyes of your smartphone camera.
Now you're able to move with your smartphone. With a view through your camera, it is possible to look at everything in your surroundings from every angle.
To see where your dog or cat is heading, you'll see a pin as an overlay with the approximate distance you need to cover to reach your pet.
A note on location accuracy:
The augmented reality feature uses the GPS location reported by your smartphone and the position detected by your tracker.
Because of this, if your tracker is very near your phone, this can cause the information shown in the Augmented Reality feature to be less accurate than if your tracker is further away from your phone. This feature is more effective when there is a reasonable distance between your tracker and your phone.