This feature is only available with a Tractive Premium service.
In order to share your tracker with a friend of yours and to give them access to the location please proceed as follows:
Open up the Tractive GPS App on your Android device, navigate to the sidebar and select the little "i" next to the tracker you want to share.
In the next menu you'll find a list with all the options and adjustments for your tracker. There's also an entry for the sharing option you need to select.
If you open the device sharing settings you'll see a list of all the active, pending and expired sharing attempts you have on your account. If you've never shared one of your devices the list will be empty.
Additionally, you can add a sharing partner with the big red "+" on the lower right corner of your screen.
There're also some suggested contacts that you might be interested in sharing your tracker with.
If you hit the big red plus there will be a popup to enter the email address of your friend. There's a checkbox which you can use to share the tracker for 24 hours only. The tracker will automatically be removed from your friend's map once the 24 hours are over. If you don't tick that option you'll need to restrict the access yourself if you need to.
After pressing "Send" the invite will be sent out and your friend needs to accept it to get access to the tracker's location.
The invite is sent out via email and as a push notification. That means that your friend will receive an email with a link to accept the invite. If the invitees have already opened up the app they'll receive the invite directly on the phone, which gives them instant access.
Your friend will still receive a push notification if the app is closed: The invite can be accepted in the notification center too.
As mentioned before you'll need to restrict the access to your tracker manually, should you, for whatever reason decide to undo the sharing.
You can find that option in the sharing menu of your tracker.
Just tap onto the three dots next to an actively shared tracker
A new menu will open up from the bottom, from where you can restrict the access to your tracker (Remove)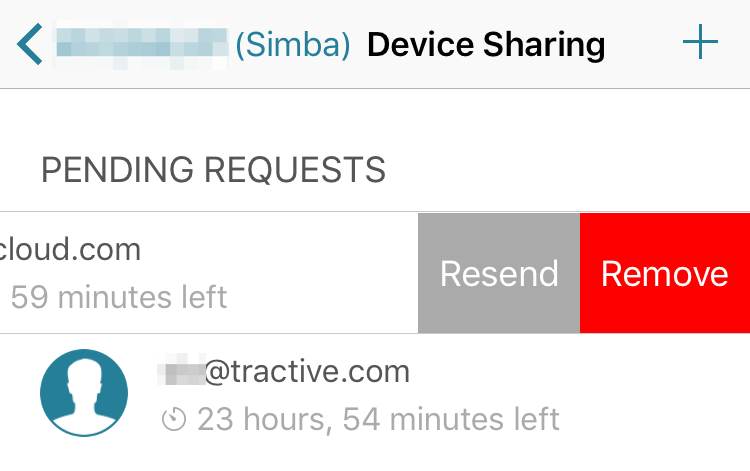 ---
To improve our products we want you to review the new Sharing Feature. You're welcome to fill out the short form I attached to the blog post after you tried it out.