When you sign in to your Tractive GPS account, you should automatically see your tracker(s) and will not need to enter the 8-digit tracker ID again during the subscription plan period.
If you receive the error message below, this means you're trying to activate a tracker that already has a subscription plan, and have now accidentally set up a duplicate Tractive account.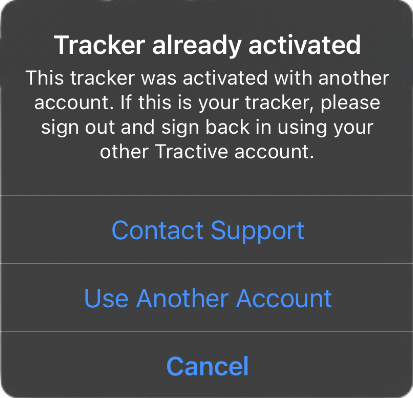 How can I resolve this?
Ensure that you log in to the app using the login method that you originally signed up with. Usually, you sign up using your email address and create a password. Therefore, please try closing the app and signing in again using the Sign in with email option at the bottom of the screen.
If you originally used Google or Apple, please select the corresponding option to access your account.


Sign in with Apple
If you are having trouble using the Sign in with Apple option, the link between your Apple ID and Tractive account may need to be reset.
To reset the link, follow the steps at https://support.apple.com/en-us/HT210426 and select the Tractive GPS app.
Once you have selected the Tractive GPS app, tap Stop using Apple ID and confirm the reset.
Then go to the Tractive GPS app and try to sign in again by tapping on Continue with Apple.
If you still cannot access your account, please contact Tractive for further support.