Note: If you already have an existing subscription plan which you would like to transfer to a new tracker, please click here to do so. Each subscription plan can only be linked to one tracker at a time.
Activation is possible in both the Tractive GPS app on your smartphone or tablet, or in a browser in the Tractive web app. Note: monthly subscription plans are only available at my.tractive.com.
Below you will find the instructions to activate a tracker by purchasing a monthly, annual or biennial plan in the Tractive GPS web app:
Log in to my.tractive.com
Select Activate a Tracker and enter the tracker ID:
Select your country of residence, then to view all subscription plan options, select Advanced activation:​
To choose a BASIC monthly subscription plan: Select BASIC and proceed with a BASIC subscription plan (Please note that PREMIUM subscription is not available with monthly payment intervals.)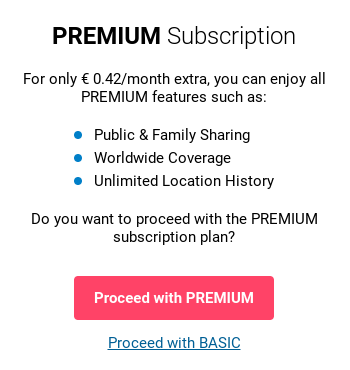 ​
Select More Options
Select the desired billing interval:
Confirm the order and follow the rest of the instructions to complete payment and activation.
Once you have completed the activation, you can manage your subscription plans anytime at my.tractive.com/services. You should then see the tracker in your app and can add your pet details to the tracker. Happy tracking!